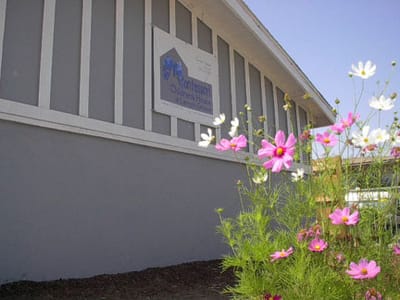 Since 2003, Montessori Children's House of Lemon Grove has offered quality Montessori Education for 2 to 5-year-olds. The preschool is located at a residence and has a separate and dedicated entrance that leads directly to the classroom and playground.
MCHLG holds a Large Family Child Care License under the California Department of Social Services, license #376614702. Under our license, attendance is limited to 12 students a day, a 1:6 ratio, allowing for a small classroom that is cozy and home-like. Our classroom is a lovely environment for our 2-year-olds experiencing their first school setting and enables our older children to provide leadership and guidance as they continue their individualized learning.
Our license also allows for children who are not yet using the toilet and still require diapers or pull-ups, and we help with transitioning to bathroom independence when they are ready.
Our approval through the National Association of Child Care Resource and Referral Agencies (NACCRRA) under Child Care Aware® of America for our Military Families requires unannounced site visits
every year
instead of 2-5 years of other facilities. To view our past facility evaluation reports, visit:
Department of Social Services facility search.
We also have annual unannounced site visits from San Diego Fire and Rescue to check our smoke and carbon monoxide monitors, fire extinguisher, and fire & earthquake drill sheet.
Teachers and assistants have current EMSA approved and OSHA-compliant CPR-AED and First Aid certification for adults, children, and infants (pediatric). These require the full 8-hour accreditation every two years. (EMSA approved certificates cannot be re-certified at the lesser 4-hour time.)
Teachers and assistants, and all household members, have received Fingerprint Clearance through the Department of Justice.
Under Health and Safety Code 1596.8662, teachers and assistants have completed Mandated Reported training for their duties as reporters of the California Child Abuse & Neglect Reporting Act.
As required by Employee and Volunteer Immunization Code 1597.622, teachers and assistants have documentation of immunization against pertussis, measles, and influenza.
Owner and director Mary Denise Duppée received her Montessori Certification in 1994 and worked in Montessori preschools in San Diego and El Cajon for over a decade before opening MCHLG.
She continued her education by completing Montessori Philosophy and Methods of Child Development through the Extended Studies Program at UCSD.
Ms. Denise holds a degree in Photography from the Art Institute of Pittsburgh. In 2014, she became a Certified Barton Reading and Spelling Tutor for Dyslexia and a Dyslexia Screener and Consultant. She is a member of the American Montessori Society (AMS), the International Dyslexia Association (IDA), and Children and Adults with Attention-Deficit/Hyperactivity Disorder (CHADD).
Ms. Sophia has a BA in Child Development from Point Loma Nazarene University and is working toward her Montessori teacher certification. During high school, she worked in the classroom for her Child Development internship, and she continued teaching while she attended university.